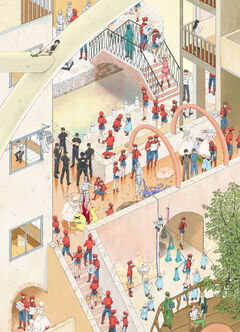 Cells at Work! (Hataraku Saibō (はたらく細胞, Hataraku Saibō?)) is the anime adaption of the original manga series produced by David Production, aired on July 7, 2018 with 13 episodes.
The story follows the world of a human's body which is represented as cities with roughly 37.2 trillion anthropomorphic cells who work together endlessly daily to run their world. Everyday, they struggle to remove and resist against pathogenic cells such as germs and bacteria from invading the body.
A ditsy red blood cell who is new to her job, AE3803 and a ruthless white blood cell who is a part in the immune system, U-1146 are featured in the story as protagonists. As a red blood cell, AE3803 transports goods such as oxygen and nutrients. On the other hand U-1146 patrols the blood vessels and destroys threats.
Studio: David Production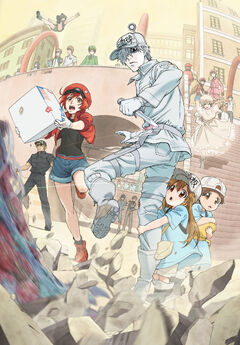 Director: Kenichi Suzuki
Producer: Yuma Takahashi
Writer: Yūko Kakihara, Kenichi Suzuki
Color Designer: Aiko Mizuno
Music Composer: Kenichirō Suehiro
Voice Cast (Japanese)
Edit
Narrator
Main Characters
Minor Characters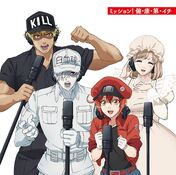 Opening Theme - "Mission! Ken・Kou・Dai・Ichi"
Lyrics, Composition by Mayuko/Yū mao (ゆうまお)
Arrangement by Kenichiro Suehiro (末廣 健一郎)
Sung by Kana Hanazawa, Tomoaki Maeno, Daisuke Ono, Kikuko Inoue
Ending Theme - "CheerS"
Lyrics, Composition, Arrangement by LIVE LAB.
List of Episodes Edit
No
Title
Air Date
1
"Pneumococcus"

肺炎球菌, "Haienkyuukin"

July 7, 2018
2
"Scrape Wound"

すり傷, "Surikizu"

July 14, 2018
3
"Influenza"

インフルエンザ, "Infuruenza"

July 21, 2018
4
"Food Poisoning"

食中毒, "Shokuchūdoku"

July 28, 2018
5
"Cedar Pollen Allergy"

スギ花粉アレルギー, "Sugikafun Arerugī"

August 4, 2018
6
"Erythroblasts and Myelocytes"

赤芽球と骨髄球, "Sekigakyū to Kotsuzuikyū"

August 11, 2018
7
"Cancer Cells"

がん細胞, "Gansaibō"

August 18, 2018
8
"The Circulatory System"

血液循環, "Ketsueki Junkan"

August 25, 2018
9
"Thymocytes"

胸腺細胞, "Kyōsen Saibō"

September 1, 2018
10
"Staphylococcus aureus"

黄色ブドウ球菌, "Ōshoku Budō Kyūkin"

September 8, 2018
11
"Heat Stroke"

熱中症, "Netchūshō"

September 15, 2018
12
"Hemorrhagic Shock (Part I)"

出血性ショック(前編), "Shukketsusei Shokku (Zenpen)"

September 22, 2018
13
"Hemorrhagic Shock (Part II)"

出血性ショック(後編), "Shukketsusei Shokku (Kōhen)"

September 29, 2018
Special episode
"The Common Cold"

風邪症候群, "Kaze Shōkōgun"

December 26, 2018